Tattoos in a calm and peaceful studio
to provide an environment for transformation and self-discovery.
| | |
| --- | --- |
| Monthly Newsletter  -  April 2017  |                                                    View this email in your browser |
Congratulations to our apprentice Faye and her first month of tattooing. She appreciates all of the interest and will be responding to all of the requests as soon as she can. We are pleased to announce that we have found a new receptionist who will be joining the team this month. See below designs available for tattooing in April/May. We will contact applicants on Tuesday, April 4th. Katia will resume monthly designs in June so she can get caught up with current projects throughout April/May.

Next month marks Rainfire Tattoo's 5 year anniversary at this location! Thanks for your support over the years and happy spring. 
<3 Katia

Original Designs for April 2017 by Katia Somerville
All beginnings require courage, inspriation and faith. Trust in these and embrace the newness of you. <3 Katia

*This design has been transposed onto a model and has not been tattooed*
Light of heart and heart of light,
softens lines of wrong or right
Feather weight negates hate,
and swirling steps of love creates. 
 
*This design has been transposed onto a model and has not been tattooed*
The Forest Through the Trees
Like directions, seasons, and elements, 
we grow and change. 
With nurture and nature, 
our web blooms beauty. 
*This design has been transposed onto a model and has not been tattooed*
With boldness, strength and grounded structure, 
we expand our consciousness,
and gain stability in both dark and light. 
 
*This design has been transposed onto a model and has not been tattooed*
Book a Tattoo with Katia
 
> These tattoo designs will only be shown in this newsletter on the first of each month and on the website blog.
> Each design will only ever be tattooed once and the recipient will be chosen at random.
> Each design is intended for a specific body part, however alternative placement ideas may be considered. Please include this and any other requests or questions in the comment section of the tattoo form.

*These are original art works by Katia Somerville. With respect, please do not duplicate her designs, bring them to another tattoo artist nor post them online. All tattoos are one-time custom pieces that Katia has drawn with intention to share with her community.
Thank you for your continued support as Rainfire Tattoo grows and evolves.
Original Designs for April 2017 by Caroline Cloutier
To Care
Thigh or arm
Open to placement ideas
To Inspire
Shoulder blade
Open to placement ideas
To Love
Sternum
To Overcome
Forearm and hand

To Shine
Upper arm
Original Designs for April 2017 by Faye Cantara
$50 flash (approx 3-4 inches)
please e-mailThis email address is being protected from spambots. You need JavaScript enabled to view it. with your placement ideas
Delicate Expansion for the lovely Rosie. 
 Katia
Calculation, spontaneity and freedom of choice reach in all directions. Presence tattoo - 7 hours  
 Katia
Byzantine-inspired architecture takes flight on sails of thought. Travelling with the mind, forging pathways that float and turrets that lead into awareness.  
 Katia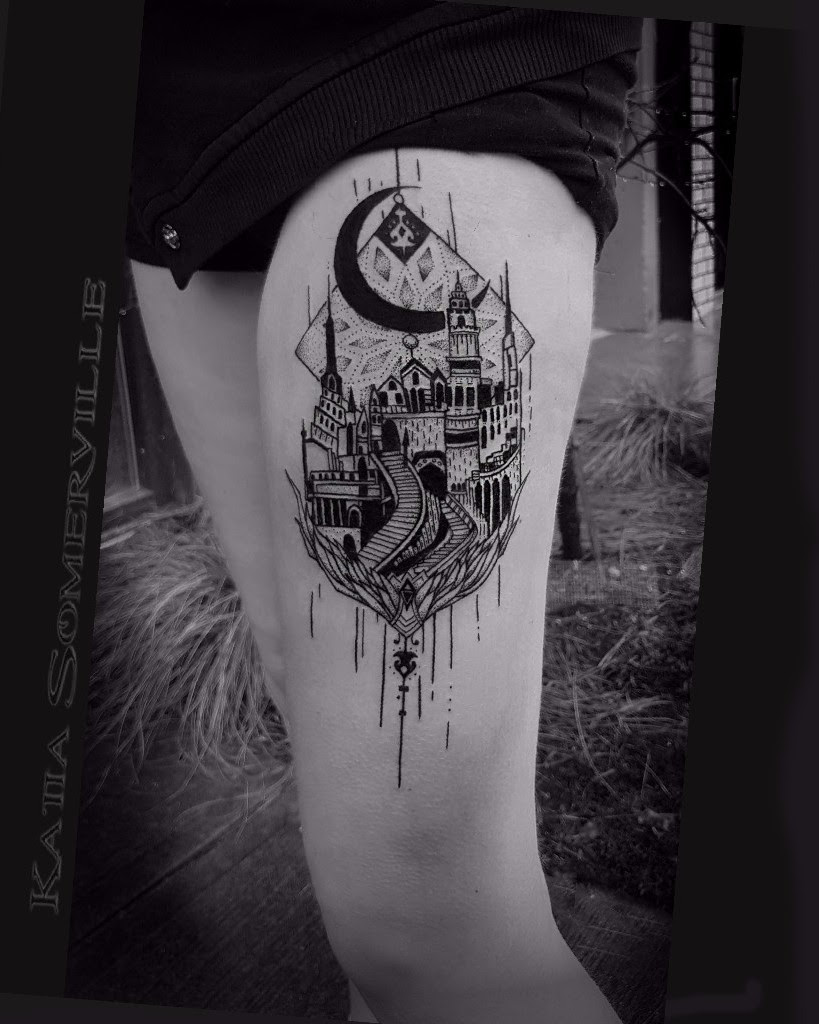 Travel with the moon tattoo for Alyssa. "With the moon's illumination and shadow, travel to infinite places occurs in both darkness and the light." 
 Katia
Thanks for flying from Saskatchewan for another session on your sleeve about "Time".
"Time is an illusion we created to try and measure the rate of change of the Present. It's always NOW. But it's an ever changing NOW. In a effort to cope with the change, we have invented time. It's a handy mental device that helps us deal with the higher order derivatives of the rate of change .Although the illusionary nature of time is the deep truth in this matter, it's not particularly practical. To be totally in harmony with this truth, you'd need to wear a watch that always said "now". But you'd be late for a lot of meetings.... " Leigh Brasington 
 Katia
"Nature loves courage. You make the commitment and nature will respond to that commitment by removing impossible obstacles. Dream the impossible dream and the world will not grind you under, it will lift you up. This is the trick. This is what all these teachers and philosophers who really counted, who really touched the alchemical gold, this is what they understood. This is the shamanic dance in the waterfall. This is how magic is done. By hurling yourself into the abyss and discovering it's a feather bed." 
― Terence McKenna
Within the hidden code, the construction of our universe, connecting all which converges into a singularity. This tattoo is for a very special person in my life, one of my best friends  
 Katia
Rising, moving, and stacking, toadstools represent immortality and eccentricity, and in this design, an essence of virtual reality. 
 Katia
Royal Presence tattoo for the lovely Alaina, weaving patterns that keep us centered as beauty blooms. 
 Katia


Stepping into infinity - An exploration of perpetual motion and perspective for this physics student.  
 Katia
When we recognise the nature of the infinite universe, there's magic in chaos and comfort in change.
 Katia
This was a sketch from last night that I posted and a friend, Lori, messaged me that she was interested in the tattoo. I then checked my email and my client today had to reschedule, so I was able to get Lori in right away! I love how things magically fall into place. Thanks for being spontaneous Lori... This tattoo is about following your dreams. Total time - 2 hrs 
 Katia
March Tattoos by Caroline Cloutier
"When you wake up in the morning, Pooh, "said Piglet at last, "what's the first thing you say to yourself?" "What's for breakfast? said Pooh. "What do you say Piglet?"
"I say, I wonder what's going to happen exciting today? said Piglet.
Pooh nodded thoughtfully. "It's the same thing," he said." A.A. Milne
Thank you dear Christina - for your strength, your passion, your friendship, and your overall awesomeness! 
"Nothing is so strong as gentleness. Nothing is so gentle as real strength." Ralph W. Sockman
A simple reminder that this world, this life can also be soft. Thank you Carissa 
"The most important reason for going from one place to another is to see what's in between." 
― Norton Juster
A simple blue rose for Cindy. It was lovely meeting you! Best wishes on your journey! 
"Every spring is the only spring, a perpetual astonishment!" 
― Ellis Peters
A simple purple celebration of a rich and authentic life led by a content heart. Thank you beautiful Cindy - you were a wonderful ray of sunshine on my cold rainy day. 
"This is the problem with dealing with someone who is actually a good listener. They don't jump in on your sentences, saving you from actually finishing them, or talk over you, allowing what you do manage to get out to be lost or altered in transit. Instead, they wait, so you have to keep going." Sarah Dessen 
To listen with curiosity. To hear beyond words. To refrain from judgment or advice. To create a safe space for others to open up and share their stories. Thank you Rupi - the authenticity of that conversation was a gift.