Tattoos in a calm and peaceful studio
to provide an environment for transformation and self-discovery. This is a lengthy newsletter this month, thank you for reading it. Make sure to click, "view entire message" as sometimes mail programs may cut it shorter than it is. Thanks again! <3 Katia
| | |
| --- | --- |
| Monthly Newsletter  -  May 2017  |                                                    View this email in your browser |


Do you trust me? A FREE trust tattoo will given in random draw on May 1st. The winner will receive a tattoo by me (Katia Somerville) without seeing the design or the tattoo until AFTER the tattoo is finished. This is in celebration of Rainfire Tattoo's 5 year anniversary!
'CLICK HERE TO ENTER TO WIN A TRUST TATTOO WITH KATIA SOMERVILLE'
* Entry closes at 12pm on Monday, May 1st
Original Designs for May 2017 by Katia Somerville
As Katia prefers to not be booking more than 2 months in advance, she is not releasing designs for the month of May and will resume designs in the June 2017 newsletter. Katia will be attending a 10 day Vipassana silent meditation practice during the month of May. 
I've been hurt, faced extreme embarrassment, and have often stood outside parties with too much social anxiety to go in. Now at 40, and feeling perfectly content, I hope to challenge the anxiety of showing the world just how awkward I can be … and push past the comfort zone. Ready to show up more, speak up more, look ahead and follow those who are ahead. All with the intention to INSPIRE without fear or care of judgements…
This is the first photo of a series of 8 that will come out every month to portray the thoughts and progression of this decision to break free and show more of myself to the world. A huge thank you to the very talented Amber Lee Photography. @amberleeartistry (contact Amber if you'd like to work with her on a project like this) We rolled a trampoline deep into a stanley park forest for this photoshoot.
"To realize one's destiny is a person's only real obligation and when you want something, all the universe conspires in helping you to achieve it." Paulo Coelho, The Alchemist 


 Katia Somerville

Click here to see more work by photographer, Amber Lee Artistry
Original Designs for May 2017 by Caroline Cloutier
Caroline is not releasing designs this month for she is fully booked up until she leaves for her trip back east in a few weeks. To keep track of her work while she is away and to know when her books will open again in Vancouver, please follow her:



on 

Facebook (Caroline's new facebook page!)

 


and 

Instagram





She thanks all of you for your love and support and wishes you a wonderful sunny transition into summer. 
Original Designs for May 2017 by Faye Cantara


The talented Rainfire apprentice, Faye Cantara, has shown incredible drive and her skills are steadily increasing every day. Please email Faye if you're interested in one of these designs priced at  $80/hour. 
This email address is being protected from spambots. You need JavaScript enabled to view it. 
Introducing guest artist, Mary Jane Watson
Mary Jane Watson, a talented geometry artist from Sweden,  travelled to Rainfire in April for a brief guest visit. She was very inspiring and embraces the healing nature of the tattoo process. Mary Jane tattooed Katia's ankle while she was here as well as a beautiful sternum design. To have a look at Mary Jane's portfolio, click here. Email her directly to book a session on her next visit to Rainfire Tattoo. 
Introducing Rainfire receptionist, Volante Matheson
When I first heard of Katia's search for a new receptionist, tattoo-less me never felt more aligned for the chance. It was Katia's concept that drew me in – the healing powers of tattoos was something I could only ever find in my books.
But I had yet to understand the full extent of her creation. It was a community, bonded over a powerful experience; and a family of the studio, rooted deep. To Felix and Caroline, I really look forward to knowing you further. To Ms. Faye, it is amazing that our paths have crossed again.
I am honoured to be here, growing and exploring in the peaceful and accepting environment that has always been Rainfire.

Thank you, Katia.
Introducing guest artist, Jacquelina Divina
Introducing Jacquelina Divina's first guest appearance at Rainfire Tattoo in June, 2017. 



Click here to see Jacquelina's portfolio

Jacquelina Divina of Victoria, BC is honoured to join Rainfire Studio with her medicine bundle to share the magic of conscious and sacred tattooing from June 1-4th. Jacquelina is devoted to being Unconditional Love and exploring the Universal Wisdoms and Energetic Medicines. She is a multidimensional pioneer through the unchartered territory of the energetic web; she maintains a strong, clear and humble space for the journey through the traverse landscape of your inner world.

Jacquelina carries a mesa woven with traditional teachings of the medicine sphere of the three fold flame. She is a channel of Spirit through the co-creation of art, tattooing, sound healing, yoga, qi gong, transformational breathwork and bodywork.

Jacquelina's portfolio comes as a gift of Spirit, embracing the brilliance of imagination and inspiration of consciousness. She is passionate about nature, totem spirits, plant spirits and the organic flow of beauty transpired by the awakening and the remembering of our Higher Self. Each of these designs are available for One Beloved Being who feels called, they will not be replicated. Colouring and shading is negotiable. Please contact her at 

This email address is being protected from spambots. You need JavaScript enabled to view it.

 for inquiries and bookings. 
Available designs by Jacquelina Divina.  This email address is being protected from spambots. You need JavaScript enabled to view it. 
Last minute change of plans so my apprentice Faye got a thigh tattoo. Like we are all just fragments of shattered glass pieced together into something substantial and amazing. 
 Katia
Another fantastic day tattooing castles. One thing my client Stephanie and I discussed are these three best things that can heal & help someone: 1. travelling, 2. extreme change, and 3. extreme pain.This is coming from a girl who told me that a car accident that resulted in her being in a wheelchair for 4 years was the best thing that ever happened to her. 
 Katia
'The Adventure Begins'' tattoo for Jessica's first! Courage, inspiration and faith.  
 Katia
First tattoo for the lovely Volante, our new receptionist."Passion is the bridge that takes you from Pain to Change" __Frida Kahlo  
 Katia
Shedding its skin, the snake's transformation takes place, casting off the old self and embracing change. This tattoo is on one of the loves of my life, someone who has helped me change and grow, and who has inspired me so much over the past 5 years. You are inside the universe as the universe is inside of you. You were created out of love as love was created out of you. 
 Katia
Over a year visiting Rainfire from Quadra Island and as of today, Kevin's first tattoo is finished. It's honestly been so wonderful getting to know you during this time, such a beautiful selfless spirit, such a protector and kind gentle person. Thank you for your trust Kevin, it's been a great journey completing this sleeve. What's been prevalent today is that no matter how far you go and how old you get, there is always tomorrow- so don't lose hope of future dreams and goals. 
 Katia
"There is nothing either good or bad, but thinking makes it so"- Shakespeare.
Being happy is a very personal thing. 
 Katia
Another session on this sleeve for Peter from Saskatchewan. "The way we spend our time defines who we are" - Jonathan Estrin.  
 Katia
Gears keep turning, one step at a time. Breaking out... loving 
living 
breathing 
believing 
trusting 
speaking
I AM 
human ...
alive 
I breathe.

 Katia
 "Certainly a painting can be reductionistically described by its physical properties only: its shape, the paint, the design, and so forth. But every artwork that exists is both an individual thing, a whole unto itself, and simultaneously a part of the matrix of forces that brought it into being." 
― Alex Grey, The Mission of Art

 Katia
Surprised my mom Easter weekend by bringing my tattoo equipment to the Okanagan and adding swirls to her tattoo reminder that means, when things are spinning out of control and you're hanging by a thread, remember there's always the strength at the core. My strong beloved mother, with such a caring soul... so much love to her and also so much respect for her patience and resilience.
 Glorious spring with a sense of growth and change. Feeling the embrace of the sun, and the openness to vulnerability 
 Katia
April Tattoos by Caroline Cloutier
"Today you are You, that is truer than true. 
There is no one alive who is Youer than You." 
― Dr. Seuss

A garden of roses and crystals to celebrate the opportunity and challenge of being alive. For a badass woman who knows so well how to make the most of every second! Thank you Patti - always a pleasure! 
"Sometimes the most important thing in a whole day is the rest we take between two deep breaths." 
– Etty Hillesum

For self care - the never ending journey back to ourselves. Thank you beautiful Stacey 
"Throw your dreams into space like a kite, and you do not know what it will bring back, a new life, a new friend, a new love, a new country. "
- Anaïs Nin 
For an inspiring young woman on a quest for clear communication and raw beauty. Thank you Kelly! See you in Yukon! 
"I am soft again. 
There is water and it surrounds me. 
There is feeling and I can feel it. 
I am awake and alive
and swollen and heavy with love. 
I am changing 
and I am loving change."
Ava.

To move on. To let go of what was and embrace what is. With love. Simply. Thank you dear Lisa for sharing your story. Best wishes on your next chapter! 
"Our separation of each other is an optical illusion of consciousness."
- Albert Einstein

A delicate reminder that love shines through time and distance. Thank you beautiful Amanda - may you two share the same breath again soon. 
"A challenge only becomes an obstacle when you bow to it. "
- Ray A. Davis 

A powerful reminder of our ability to let go of unwanted behavioral patterns - to rise above and overcome the toxicity of past relationships in order to enjoy the sweetness and warmth that also came with it. With all my heart, thank you Steph! Best wishes on your journey! 
April Tattoos by Felix Addison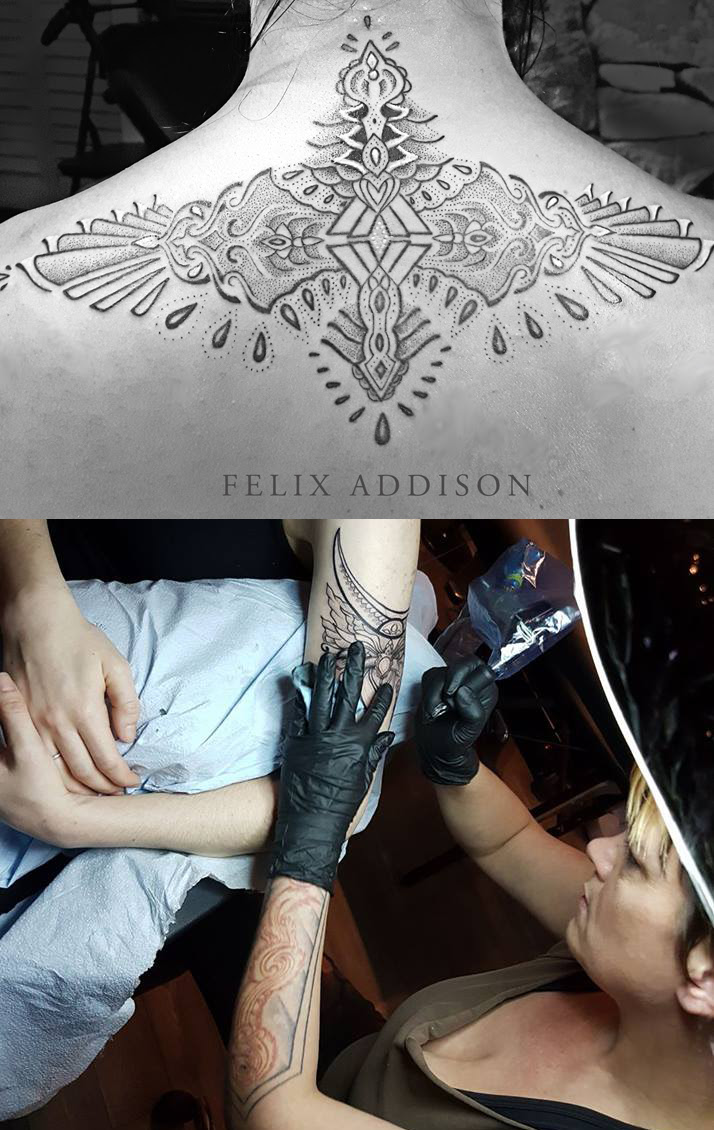 Felix is currently booking custom tattoos. Contact her to see if she would like to work on your project in her style 

This email address is being protected from spambots. You need JavaScript enabled to view it.

 
April Tattoos by Faye Cantara
An Ernst Haeckel-inspired piece. A lot of his scientific theories did not stand the test of time, but the beauty of his artwork definitely did 
Thanks for sitting like a champ, Beth!
Kyle is having a year of firsts and thought it fitting to receive his first tattoo from a beginner.
Thank you so much for your trust and the wonderful conversation, Kyle! 
A fun little pour over for Emily, with whom I can't wait to have another summer of bike trips and portable coffee dates at the beach. 
A flower in a tough spot for a tough woman. Thank you so much for your trust and for the homemade jam, Rachael!