Tattoos in a calm and peaceful studio
to provide an environment for transformation and self-discovery. This is a lengthy newsletter this month, thank you for reading it. Make sure to click, "view entire message" as sometimes mail programs may cut it shorter than it is. Thanks again! <3 Katia
Monthly Newsletter  -  July 2017

 

                                                 View this email in your browser
Happy Canada Day! It's been a busy season with many artists and clients passing through our doors. Caroline will return in August, however we have been enjoying having Ashley Apok back for a short while before he embarks on further adventures. Jacquelina Divina had a successful tattoo visit, and this month Lu Loram-Martin will be at Rainfire Tattoo for a 2 week visit. Katia has been tattooing up a storm, as usual, and so has the apprentice Faye, who is steadily increasing in speed and skill. Felix is also around about once a month, so give one of the artists an email if you'd like a tattoo this summer! (Katia is only booking from newsletter designs but the other artists are available). Lots of love and have a wonderful July:) 

I noticed the darker side of the drug, especially when mixed with other drugs such as alcohol. People at parties would be passed out on a couch or in a bathroom stall, barely able to walk or speak. Worse yet is they would be unresponsive, and taken to the hospital. From an ICU nurse: "We get them in ICU all the time. GHB is no joke. It can make you stop breathing." From a friend: "I've lost 3 friends to GHB overdoses in the last 2 years." I talked to many others, who were addicted as I was but also kept it hidden, fearing judgement. However I kept thinking, 'this won't happen to me, G helps me to overcome social anxiety and I am very careful."

Click the photo above if you would like to read the entire article, as it is made shorter here for the newsletter. I truly hope that in sharing my vulnerability, you may inspired to face your own.

 Katia Somerville

A huge thank you to Amber Lee Artistry. This is the 3rd in a succession of 8 monthly photos with personal stories intended to show more of myself to the world.
A huge burst of gratitude to our lovely receptionist, Volante, who holds such wonderful energy and spirit at the studio and also is an amazing addition to the Rainfire team. I feel so lucky to have Volante helping us and being so sweet, lovely and hard-working. 
Love, Katia
1. Reflection of Love
On wings of exploration we fly freely, experiencing bliss with regard for humanity and the universe yet without guilt nor fear. The personal responsibility of our karma is our guide.
2. Silent Challenge
When strength appears to be waning, it may just be changing form. 
Layers can appear as fragments when we don't see how they're connected. 
Shifted perceptions create new paradigms when we believe in ourselves.
3. Requital
An attitude of gratitude boldly supports the beautiful life that surrounds us, when we surrender to the now.
4. Rising Rebirth
With faith we embrace the day fully, allowing our best self to emerge and re-emerge, reaching greater heights with each breath and intention.
5. Blooming
From life comes growth
From growth comes life
The gentle but strong branches of our psyche rise ever higher when we make space for them to flourish.

By Katia Somerville
  ---  TO APPLY FOR ONE OF THE ABOVE DESIGNS...

> Fill Out the Tattoo Form Here <
> These tattoo designs will only be shown in this newsletter on the first of each month and on the website blog.
> Each design will only ever be tattooed once and the recipient will be chosen at random.

> Each design is intended for a specific body part, however alternative placement ideas may be considered. Please include this and any other requests or questions in the comment section of the tattoo form.

*These are original art works by Katia Somerville. With respect, please do not duplicate her designs, bring them to another tattoo artist nor post them online. All tattoos are one-time custom pieces that Katia has drawn with intention to share with her community.
Thank you for your continued support as Rainfire Tattoo grows and evolves.
Original Designs for July 2017 by Faye Cantara
The talented Rainfire apprentice, Faye Cantara, has shown incredible drive and her skills are steadily increasing every day.

Please email Faye if you're interested in one of the below designs. Faye has openings in July at $80/hr and in August at $120/hr. Each design is unique and only tattooed once. She is open to placement ideas.
This email address is being protected from spambots. You need JavaScript enabled to view it. (please use the design name as the subject of your email!) 
"And once the storm is over you won't remember how you made it through, how you managed to survive. You won't even be sure, in fact, whether the storm is really over. But one thing is certain. When you come out of the storm you won't be the same person who walked in. That's what this storm's all about." Haruki Murakami

Recovery is a spiral. In the centre there is rapid movement - tension, hardship, and pain. Then something changes, and we are able to slowly ease out of hurt and into recuperation, finally unfurling into a space where we feel beautiful. 


By Faye Cantara
"Society often forgives the criminal; it never forgives the dreamer." 
Oscar Wilde
Put on your floral armour and shield yourself from the idea that your softness is a flaw, or that your kindness is weakness. Put on your floral armour and cultivate relationships with those who honour and return your altruism. You deserve to receive it.
By Faye Cantara
"We are part of this universe; we are in this universe, but perhaps more important than both of those facts, is that the universe is in us." Neil deGrasse Tyson

When all else fails, hold yourself and say, "I really am made of star stuff." Is there anything else that makes us feel so special and so ordinary all at the same time? For me, this reminder is usually a big relief. The pressure's off, now go and be your weird self!
By Faye Cantara
Original Designs for July 2017 by Ashley Apok
Ashley Apok is a frequent guest artist at Rainfire Tattoo. We originally thought he would be off gallivanting the globe for the rest of summer, but were happily surprised to find he would be staying an extra month! Ashley most recently came to Rainfire in June. His availability was quickly spoken for as clients eagerly requested his time. This month Ashley is releasing designs with the Rainfire July Newsletter - and we have a feeling these will be as eagerly snatched. 

You can contact Ashley through email: apokindustries@gmail.com
To apply to Ashley's following designs please click here.
June Tattoos by Katia Somerville
Individually Connected- Just as with the human form, nautilus shells have variations and imperfections in shapes of their dimensions. However it's the visual appearance of dimensions that come close to phi proportions that has lead many to associate it with the golden ratio, and to view it as one of the most beautiful spirals in nature. The human form, while also based on golden ratio proportions, is extremely beautiful, yet each one has unique variations. It's important to recognize each person's differences and appreciate the beauty of individuality and how everyone is perfect in their own way. Special tattoo for a special man. 
 Katia
moving forward 
each step 
time 
heals 
everything 
changes 
the only constant 
 Katia
Further arm addition for a beautiful musician, who is not afraid to be honestly herself. 
 Katia
Create your story 
With confidence 
and grace 
 Katia (KAT tea-ah)
Not many of my friend's mothers would agree to a matching foot tattoo for a birthday present. Such a special bond between my good friend Ali and her lovely mother. It was an honor to be a part of this process. 
 Katia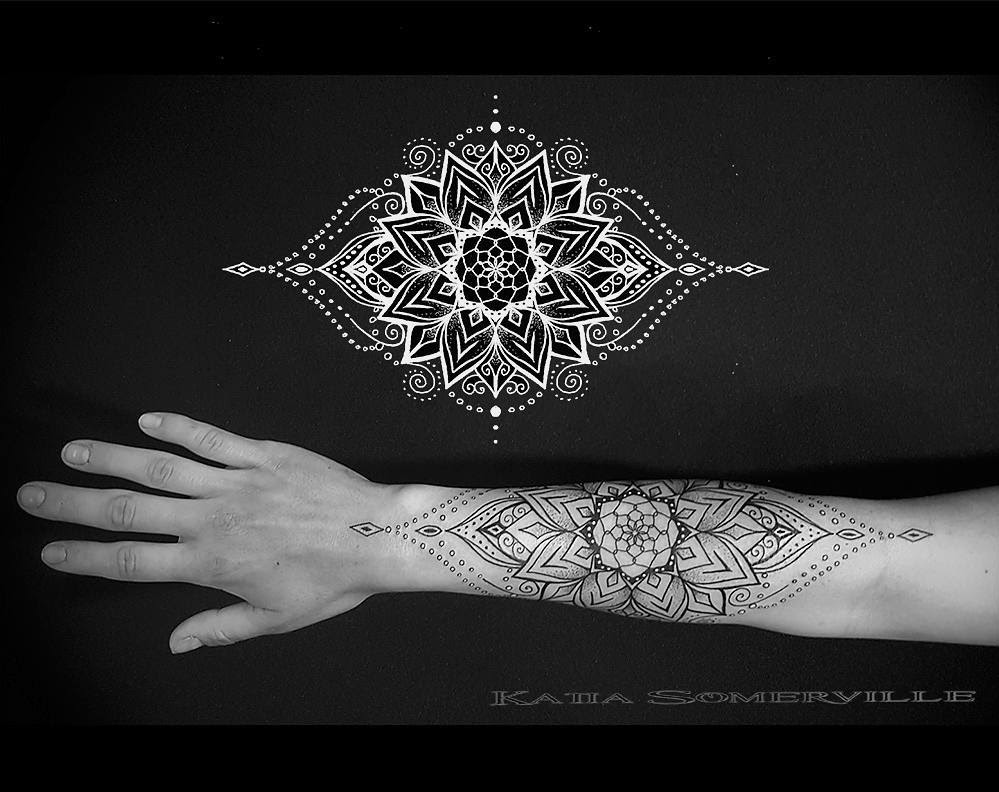 The forest through the trees, this tattoo represents growth and change through directions, seasons and elements. 
 Katia
The new Rainfire studio manager, Volante's first tattoo, travelling through the four directions with grace. Practicing groundedness and trusting intuition as she flies with the moths, and the earth turns beneath her feet. 
 Katia
As summer moons rise and fall, with disciplined self care we see beyond the patterns of routine. It takes bravery to allow ourselves to see things in a new light. 
 Katia (KAT tea-ah)
"FLOW - For love of Water" 
 Katia
"A migration returns to its roots even though it can fly anywhere. Freedom is knowing you are the author of your own perfect story."
 Katia


Winner of the Trust Tattoo
Hello Katia,
I would like to thank you for my free trust tattoo. Right from walking into your studio and the warm welcome from Volante, I knew it was going to be a wonderful day.  I am still in shock that I won the trust tattoo, but I feel I was supposed to meet you at this time in my life.  
The time in your meditation room has given me a lot to reflect on and helping with my healing.  You are a very inspiring person and have such positive energy.  I loved the idea of an audiobook and have started one myself! The experience was so special, and the tattoo is perfect.  I am absolutely in love with it.  I look forward to the next time.
- Carla 
June Tattoos by Faye Cantara
Icelandic protection staves Vegvísir (runic compass) and Ægishjálmur (Helm of awe) for Caron, who is determined to love herself and continue to move in the right direction. - Faye
This edible plant called rue (arruda in Portuguese) grows in Veruska's home region of Goiás, Brazil. A delicate first tattoo for a brilliant woman. - Faye
I had such a wonderfully relaxing end to my week with Arianna. I hope to see you again! - Faye
I had so much fun tattooing my first floral piece on R, who sat like a mannequin. - Faye
You are worthy, you are strong, you are enough, Emily! - Faye
I feel grateful to be a part of my clients' rituals - when they take time to do something nice for themselves. It was so awesome to spend time with Kyle again, who was my first real client back in April! - Faye
June Tattoos by Felix Addison
"Remain in the world, act in the world, do whatsoever is needful, and yet remain transcendental, aloof, detached, a lotus flower in the pond." 
― Osho
"If you were born without wings, do nothing to prevent them from growing." 
― Coco Chanel
"Once you have tasted flight, you will forever walk the earth with your eyes turned skyward, for there you have been, and there you will always long to return." 
― Leonardo da Vinci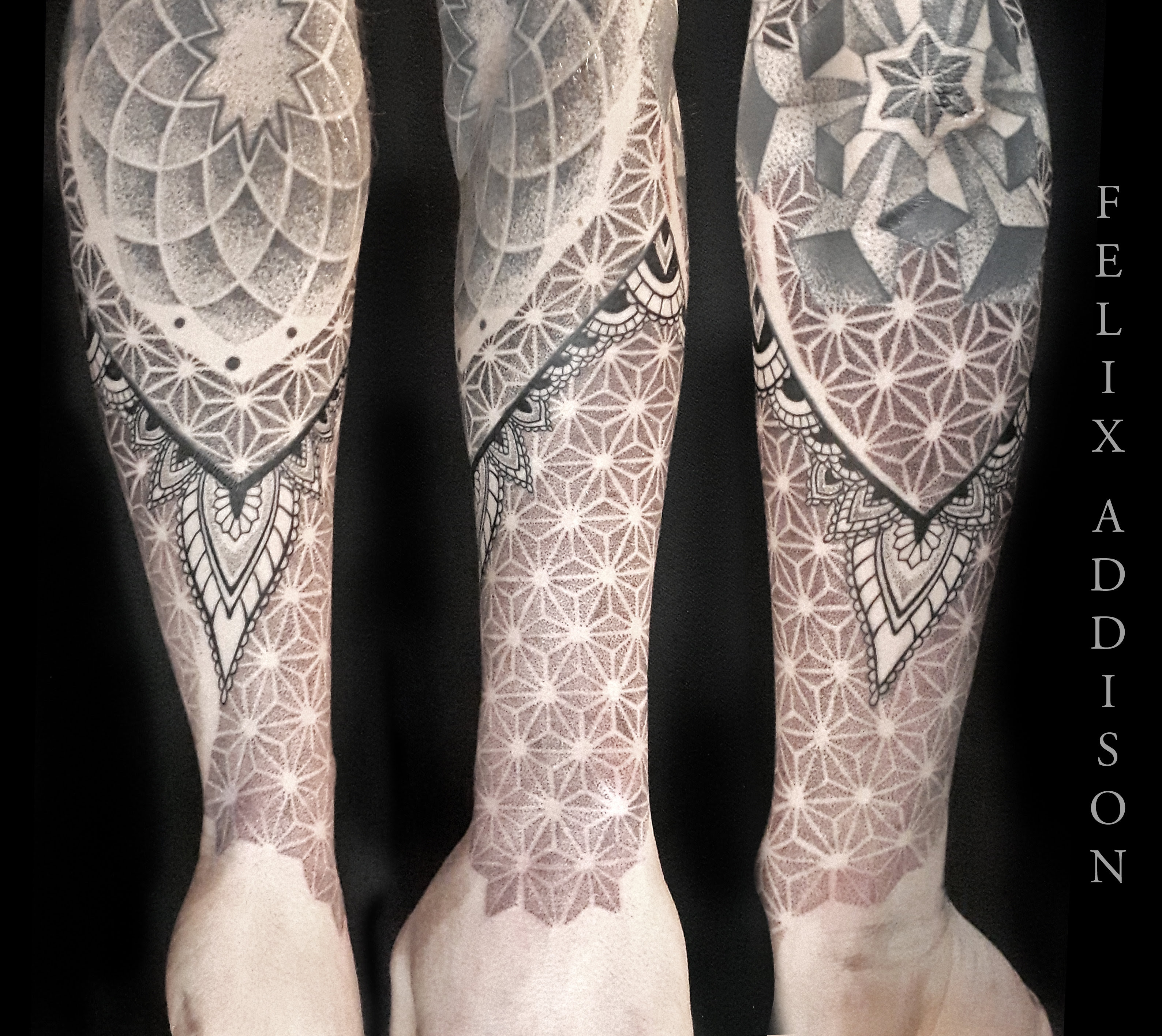 "Some things are destined to be -- it just takes us a couple of tries
to get there." 
― J.R. Ward
June Tattoos by Ashley Apok
My client Kevin asked me to create a mandala to represent his Mother. My interpretation was a curving Feminine center, the boundary of the womb, and the angular Masculine expanding into the world. Geometric lion tattoo also by me. -Ashley
Let this be the end of playing it safe; of holding back for fear of loss- let this be the beginning of loving life, and everything in it, like it is your first day in this world.

I'm blessed to have clients trust to create my art on their bodies. Thanks David! -Ashley
Finished this feather for Lou on my last day guesting at Rainfire Tattoo. It signifies freedom and a new chapter in her life. -Ashley
'Cyberpunk Psychedelia'. Thank you Shannon for bringing me this unique project and for being such a wonderful client! -Ashley
WIP of this mandala bouquet from today. Feeling uplifted and supported by my clients, friends and family. My life is amazing. Thank you for looking! -Ashley
Dakota the spirit dog. Done for my spirit homie Lila, at Rainfire Tattoo. -Ashley
Isaac came to me when I first started tattooing in Vancouver. His idea for a sleeve project challenged me in all the right ways- expanding my edges as an artist and accelerating my progression as a tattooer. His trust, and the trust given to me by my clients, is a gift I keep present with me every day. Thank you. Healed work from the previous 3 years. -Ashley
Self care is care for all. Added a Peony and some leafing to @little.hive's sleeve project. Cheers for the great session. -Ashley
What if for only a moment, you stopped doing? For that moment you let go of effort, judgment, thought, and story. What would be left? 
Lotus Om with a rotational mandala for Theresa. -Ashley
I don't normally do cover ups but Kim is a return client, and I enjoyed upgrading her old Kanji lettering with this lotus flow. -Ashley
June Tattoos by Jacquelina Divina
A beautiful day to tattoo Marcia. Here is the beginning of something new, with much more to come. We both share the path of recovery and have known each other for many years. We both cherish the opportunity for new beginnings! Thank you, Beautiful! -Jacquelina
Today I got cozy at @rainfiretattoo, such an incredible space with such beautiful souls! Also Satomi, from Japan received her first tattoo. This design was created to inspire strength along her spiritual path. Blessings, wandering Spirit. -Jacquelina
Thank you, Madison for joining me today on this sacred journey. I am honouring the Sacred that is You. -Jacquelina
We hope Jacquelina graces us with another visit!