Tattoos in a calm and peaceful studio
to provide an environment for transformation and self-discovery. This is a lengthy newsletter this month, thank you for reading it. Make sure to click, "view entire message" as sometimes mail programs may cut it shorter than it is. Thanks again! <3 Katia
Monthly Newsletter  -  August 2017

 

                                         View this email in your browser
From left to right above: Volante (receptionist), Faye (apprentice), Katia (owner) and Felix (frequent guest artist)
Summer may be nearing its end, but our momentum remains strong.
We enjoyed the company of guest artists Lu Loram-Martin and Ashley Apok in July. Lu arrived in full swing, completing 22 tattoos in two weeks! With such beautiful work, we hope she returns soon. Ashley was back again with another full schedule – his unique designs claimed quickly in our June newsletter.  In August we welcome back Caroline, who is already fully booked. Then to ease your transition from summer to fall, we have guest artists Ashley Apok and possibly Lu back in September, and Tedd Hucks visiting in October. We are eager to see what designs they create.
 Last but not least, our homebound family has been hard at work. Felix's frequent visits are a nice breath of air, her clients always cheerful, and her designs always captivating. Our apprentice Faye has been drawing design after design; and now, due to her rising popularity, has had to close her books to custom work for the remainder of the summer. Katia has been tattooing as well as gallivanting through the BC arts festivals. You can find her surrounded in the comfort of her Drawing Tent at the upcoming Eclipse and Imagine festivals. Ask her about getting a temporary tattoo of her own designs. Lastly, many thanks to our receptionist Volante who is always a cornucopia of good energy in the studio. 

A special 90th birthday message to my Baba on August 1st. I was surprised and pleased at how you were appreciating tattoos and even got a temporary tattoo of my artwork on the weekend. I am so happy to see that people can still change at 90. <3 Katia
Tattooing Journey of Katia Somerville
My search for purpose began at ten years old and was brought back to life after a 50 foot fall. I believe now that my reason is to create tattoo art. To share this deeply profound experience with people, fills me with immense honour.
In the many years leading up to tattooing, I didn't know what to do and searched for the answer. I had an eye for business at a young age. When I was five, I walked around the neighbourhood with hand-drawn pictures, knocked on doors and sold them for a dime or a cookie. During the last years of highschool, I started a business breeding and selling reptiles around the Okanagan in 1994. Then decided to go to UVic, and achieved a Bachelors of Education in year 2000. Teaching children in elementary schools for almost 10 years around Langley and Vancouver, I gravitated towards technology, and excelled in teaching children how to use computers.
 Click the photo above if you would like to read the entire article, as it is made shorter here for the newsletter if you are interested in hearing about my journey as a tattoo artist.

 Katia Somerville

A huge thank you to Amber Lee Artistry. This is the 4th in a succession of 7 monthly photos with personal stories intended to show more of myself to the world.
Original Designs for August 2017 by Katia Somerville
1. Trust Tattoo by Katia Somerville: 
A 'trust tattoo' is a powerful tattoo experience in which you don't see the design until after the tattoo is completed. For the 5 year anniversary last month, I gave away a free trust tattoo. This one (August) is a full-price trust tattoo. Thank you for your trust! <3 Katia
Below are the available designs by Katia Somerville that you may apply for in August. Each only tattooed once. The application closes at 10 am on August 1st. I hope you find your perfect tattoo. <3 Katia (link to application is below the designs). 
Please note that the images you see below are only design placement ideas. These designs have not yet been tattooed and will only ever be tattooed once. <3
2. Flight of Endless Possibilities by Katia Somerville
When you believe the world is at your doorstep, the steps will solidly manifest beneath your feet. 
3. Grace and Change by Katia Somerville
By approaching transitions with finesse and without fear, we allow our growth to be beautiful. 
4. Listening by Katia Somerville
The voice that inspires us from within, can be stronger and wiser than anything outside the surface. Gather this strength and move forward with the power of your own knowledge. 
5. Speaking your Truth by Katia Somerville- The encouragement to embrace being vulnerable and honest with your feelings and beliefs. Know that everything and everyone changes and it will all be okay in the end with time. Minimum, 11cm diameter. 
  ---  TO APPLY FOR ONE OF THE ABOVE DESIGNS  ---

> Fill Out the Tattoo Form Here <
> These tattoo designs will only be shown in this newsletter on the first of each month and on the website blog.
> Each design will only ever be tattooed once and the recipient will be chosen at random.
> Applications will be open from 12:00am-10:00am on August 1st. 
> Each design is intended for a specific body part, however alternative placement ideas may be considered. Please include this and any other requests or questions in the comment section of the tattoo form.

*These are original art works by Katia Somerville. With respect, please do not duplicate her designs, bring them to another tattoo artist nor post them online. All tattoos are one-time custom pieces that Katia has drawn with intention to share with her community.
Thank you for your continued support as Rainfire Tattoo grows and evolves.
Original Designs for August 2017 by Faye Cantara
The talented Rainfire apprentice, Faye Cantara, has shown incredible drive and her skills are steadily increasing every day. Please email Faye if you're interested in one of the below designs. Faye has openings at $120/hr. Each design is unique and only tattooed once. She is open to placement ideas.
This email address is being protected from spambots. You need JavaScript enabled to view it. (please use the design name as the subject of your email!) 
1. Pirouette by Faye Cantara- "Play keeps us vital and alive. It gives us an enthusiasm for life that is irreplaceable. Without it, life just doesn't taste good." -Lucia Capocchione
I've been spending a lot of time with my little nieces this summer. Their imagination and curiosity are infectious. I'd say they are some of the funniest people I know. My apprenticeship has been busy and at times a little overwhelming, but pausing to spend the weekend with them reminds me to make time to play, pretend, and just be silly.
2. Renewal by Faye Cantara-- "What if you simply dedicated this year to loving yourself more?" - Unknown
It's the middle of summer. The past few weeks have been really warm, and a lot of us are wearing less clothing. It is an opportunity to honour our physical bodies in all their shapes, sizes, colours and textures. Let's go into fall with a renewed sense of ourselves, what we deserve, and how we like to be nurtured.
3. Fledgling by Faye Cantara-
"Hope is the thing with feathers -
That perches in the soul -
And sings the tune without the words -
And never stops - at all -"
Emily Dickinson
A web of support, cradling a budding seed...the possibilities are endless.
July Tattoos by Katia Somerville
Thanks for displaying my art on such a lovely canvas, Sara Bean 
 Katia 
Delicate flight for the beautiful @amberleeartistry who I am proud to call a close friend- someone who is reliable, speaks honestly and follows her word. Someone who embraces her talents and drive to succeed. Loving the photography project trade with you, Amber, and looking forward to a future of blossoming friendship 
 Katia
This tattoo represents regeneration, and support through transformation. Being vulnerable channels intimacy with others and builds lasting relationships. Reveal rather than conceal. Thoughts from this amazing book I'm reading now called 'Captivate, the Science of People'. Total tattoo time: 2 hours 
 Katia
An attitude of gratitude boldly supports the beautiful life that surrounds us, when we surrender to the now. Total tattoo time: 4.5 hours. Thanks Aimee! 
 Katia
Rising Rebirth- Embrace the day fully, allowing our best self to emerge and re-emerge, reaching greater heights with each breath and intention. 
 Katia
Blooming resilience to letting ourselves sink back into patterns of hyperactivity. Instead, relax into a comfortable pace of present gratitude. 
 Katia
Had a wonderful day tattooing the Rainfire receptionist Volante today. This represents allowing the enjoyment of personal luxuries in life... while remaining in control of when it's too much. Tattoo time: 2.5 hours. 
 Katia
This was a piece I had started seven years ago, back when I was still using colour. The transformation of this client from when I started to now, amazes me. I admire your strength Madeleine and I hope you continue to find balance in your life. 
 Katia
July Tattoos by Faye Cantara
I drew this design before I started tattooing and my mentor @rainfiretattookatia booked it right away. We haven't had much quality time since I started tattooing, so it felt great to slow down a bit and learn a bunch of new stuff from her while I tattooed! This tattoo is about the beauty in silence.  
 Faye
Another special design has found its home with a sweet and wonderful woman. I called this design Starburst - it reminds me that everything around us is made of the same stuff...so you may as well let your freak flag fly! Thank you for your beautiful presence, Judy. 
 Faye
The hardest part is over, and then you can let go. Thank you for your trust, Emily! 
 Faye
Well, it's not everyday you get to pick the brain of a genetic counsellor. Thank you for coming back and brainstorming additions for your tattoo with me, Abby!!! 
 Faye
I was BLOWN AWAY by the kindness and gentle presence of Sienna - it was such a pleasure to spend the day with you! 
 Faye
"You are the spark that can light a bonfire." A phoenix for Nadine. You inspire me! 
 Faye
July Tattoos by Felix Addison
"If I were a flower,
humming bird would be my favourite bee
And If I were blind,
the light of darkness I'd love to see" 
― Munia Khan
July Tattoos by Lu Loram-Martin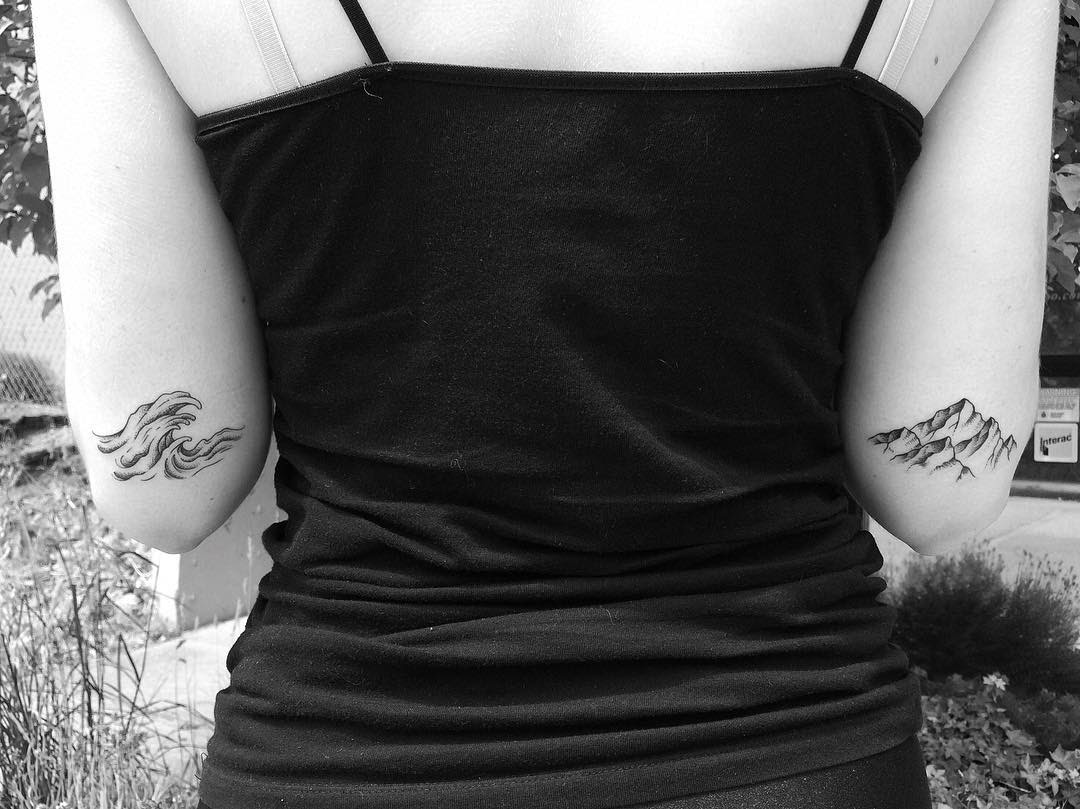 "A path is a prior interpretation of the best way to traverse a landscape." 
― Rebecca Solnit

Little ones for Hannah this morning!  
 Lu 
"You don't have to remind a flower when its time to bloom is near; it has been preparing for it all of its life." ― 
Matshona Dhliwayo
Thanks so much Vivian 
 Lu
"Let your Life be a garden of peace and your smile be a bloom of flowers." 
― Dinakar Phillip

Stacey has taken some bloody marvelous photos of her arm for me!!!!!! Oh I was I could take photos like these! 
 Lu
"Feed your soul on Art and Nature; live by the sunlight and love by the moon." 
― Amelia Dashwood

And this was a super lovely one for Alisha! Who also sat like a dream...the must be something in the Vancouver water. 
 Lu
"I felt my lungs inflate with the onrush of scenery—air, mountains, trees, people. I thought, "This is what it is to be happy." 
― Sylvia Plath

Today I added to Alexandra's arm! The centre part of this is fully healed. 
 Lu
"But he who dares not grasp the thorn 
Should never crave the rose." 
― Anne Brontë

I also did this fun geo-rose piece for Theresa today. 
 Lu
"Is the spring coming?" he said. "What is it like?"...
"It is the sun shining on the rain and the rain falling on the sunshine..." 
― Frances Hodgson Burnett

I also did this piece for the lovely Elana today! 
 Lu
"The poetry of the earth is never dead." 
― John Keats

Thanks Yuliya! 
 Lu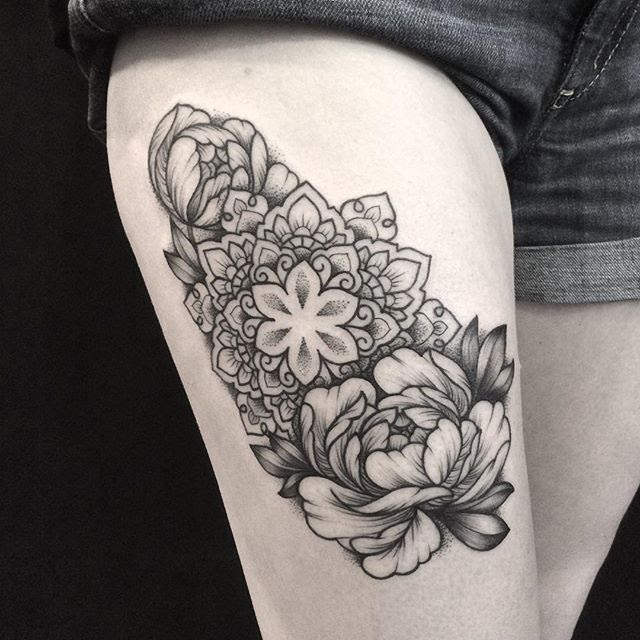 "The world's big and I want to have a good look at it before it gets dark." 
― John Muir

Well my first day at @rainfiretattoo was a blast!!! Thanks Darlana. 
 Lu
"Don't tell me the moon is shining; show me the glint of light on broken glass." 
― Anton Chekhov

Thanks Gaye! 
 Lu
July Tattoos by Ashley Apok
'Source Vibrations' selected from my July design sheet and tattooed during my guest spot at @rainfiretattoo. Thanks for looking! - Ashley
'Crystalline Mandala' selected from my July design sheet and tattooed at @rainfiretattoo. Love and light! - Ashley