| | |
| --- | --- |
| Monthly Newsletter  -  March 2018 |                      View this email in your browser |
Make sure to click, "view entire message" as sometimes mail programs may cut it shorter than it is.
Thanks for reading the March 2018 newsletter. February has seen many changes around the studio, including a new mirror, lights, mail slot, bigger push/pull signs on the front door, and we now have wood stickers for sale (by

Sacred Light Design

). Amelie is currently relaxing and doing yoga in Bali, and the rest of us have been working away the wintertime blues. Speaking of blues, I've been feeling a bit darker this month and more introverted. So I've decided to name all of my mandala tattoo designs using the idea of the 'seven deadly sins' (see below). There are also mandala designs that you can book to get tattooed by the other artists as well. Take your pick! <3 Katia
** Rainfire Tattoo artists Ashely, Faye, Amelie and Felix all currently have their books open:)
Click Here to see their portfolios and contact info. 
In the next few months, we welcome the following guest artists (below), and good news- they
are taking bookings for custom requests. Please contact them directly for bookings. *** Jean-Philippe Caron (@inkandspinners) has 2 spots available during his visit next week. He is driving a tiny home from Banff for a Vancouver visit! Email him soon to ask him about getting a tattoo next week.
Felix Addison and I met at a festival just over 5 years ago and shortly after we discussed the idea of working together at Rainfire Tattoo. Since then, Felix has been coming to Rainfire as a regular guest artist from a communal forest home on Gabriola Island.
Felix has a small tattoo studio in one of the retail centers of the island. Coming to Rainfire has allowed Felix to have the best of both worlds, the tranquility and peace of living near nature and the independence of having a private studio, along with doses of the energy of city life and being able to exchange inspiration and ideas..
I have been watching Felix grow so much as an artist in the past 5 years, watching their transition from a more general style of tattooing to a specialized style which flows most naturally from their hand.
Felix now enjoys creating pieces which flow with and accentuate the anatomy of the body using geometric forms which incorporate combinations of strong black with delicate dotwork and greywash. It is their passion to work with the personal symbols and life journeys of their clients, often using stylized animals to represent the character and ideals the clients wish to embody. It is Felix's belief that tattoos are a route to self expression, reminders of ideals, and devotion to spiritual principles and they feel honoured to facilitate that while creating works of art on living canvases.
I am so pleased to have Felix Addison on the team. If you'd like to book a tattoo by Felix, send an email toThis email address is being protected from spambots. You need JavaScript enabled to view it. with your ideas. 

 Katia Somerville
Original Designs for March 2018 by Katia Somerville
There are seven mandala designs available this month to be tattooed by Katia Somerville. Application link is below.
* There will be another Trust Tattoo opportunity in the upcoming months.*
Please note that the images you see below are only design placement ideas. These designs have not yet been tattooed and will only ever be tattooed once. Also, please don't copy or duplicate these designs for any reason. 
Mandala Placement Suggestions:
YOU CHOOSE THE PLACEMENT. 
- Head (around ear)
- Double arm (matched when arms are together)
- Side thigh
- Front thigh
- Lower or upper arm
- Back shoulder
- Top shoulder

- Chest
- Middle of back
- Hip
- Back or side of calf
- Embellishing another tattoo
- Behind other tattoos (background)
- Other (please let us know in comments where you plan to place it)
What is a mandala?  http://www.mandalamagic.com.au/mandala/
Simply put a mandala is a design, drawing or painting within a circle, however mandala art is ancient - more than 2,000 years old. Mandalas symbolically represent life and its constant cycles and interconnection. 
The Mandala is a round form that holds a story – our story - about our mental, emotional and spiritual state of being. Mandalas create a safe place to pursue deeper feelings and explore complex patterns of our identity.
Mandalas are used to quiet our constant thoughts so that our creative self can be expressed. They give us a point of focus, remind us that nothing is permanent, and gives a sense of relaxation and connection. More information about mandalas: https://www.ancient.eu/mandala/

The mandala designs below are based on the 'seven deadly sins' by Katia Somerville
(above left) Sloth- To slow down and appreciate the moment relaxes the mind and spirit. 
(above left) Avarice- We are enough. We have enough. 
(
above 
right) 

Excess- The mind and body knows limits. We need both self-control and self-indulgence. 
(above left) Desire- When practicing control, emotions can be better understood.
(above right) Pride- Differences do not increase nor diminish our value. 
(above left) Envy-  Seek inspiration and compersion over jealousy. Aspire to be like those who motivate change.
 (above right) Wrath- Anger expresses an unmet need. Look for a safe way to release it. 
  ---  TO APPLY FOR ONE OF THE ABOVE DESIGNS by Katia Somerville  ---

> Fill Out the Tattoo Form Here <
> Each design will only ever be tattooed once and the recipient will be chosen mostly at random.
*These are original art works by Katia Somerville. With respect, please do not duplicate the designs, bring them to another tattoo artist nor post them online. All tattoos are one-time custom pieces that the artists have drawn with intention.
Thank you for your continued support as Rainfire Tattoo grows and evolves.
March 2018 Designs Available by Faye Cantara
The designs below are available to be tattooed by Rainfire apprentice Faye Cantara. Please email Faye at 

This email address is being protected from spambots. You need JavaScript enabled to view it.

 to reserve one of these unique designs (please use the design name in the subject of your email).

Faye has openings at $120/hr. If you are interested in booking one of the designs, please email Faye at 

This email address is being protected from spambots. You need JavaScript enabled to view it.

 (please use the design name in the subject of your email).
These two mandalas for Mandala March can be tattooed whole (on a thigh or shoulder) or partially, around existing tattoos or to fill gaps between other pieces. 
To see more designs available by Faye, please visit the 

'Available Designs'

 

section on the Rainfire website.
March 2018 Designs Available by Felix Addison
The four Mandala March designs below are available to be tattooed by Felix Addison. Please email Felix at felixaddisontattoo@gmail.com to reserve one of these unique designs (please use the design name in the subject of your email).
March 2018 Designs Available by Amelie Soucy
The designs below are available to be tattooed by Rainfire artist Amelie Soucy. Please email Faye at 

This email address is being protected from spambots. You need JavaScript enabled to view it.

 to reserve one of these unique designs (please use the design name in the subject of your email).
February 2018 Tattoos by Ashley Apok
If  you can, do something to help brighten another person's day - even a smile can ripple out and make a world of difference. Things are coming together on this sleeve! Cheers for the conversations and sitting like a champ!
There is a part of your experience that is always present, always believes in you, always accepts you, and always loves you - be that presence. I'm excited to share this completed project based on the theme 'geometry in nature.' My client spent time in Thailand training Muai Thai kickboxing, and that inspired me to incorporate a temple and tree into his tattoo. 
Don't let projected worries of the future take you out of being present now. Your life will be vastly different in 10 years than you could ever imagine. Live in the now! Tons of fun tattooing some Goddess warrior adornment for this client. Inspired by the jewelry worn by Bodhisattvas.
February 2018 Tattoos by Amelie Soucy
A Rose, for the lovely Stephanie. 
♥
A solid first session on this lovely mermaid. Lady faces are tough! Thank you so much, Mary! 

♥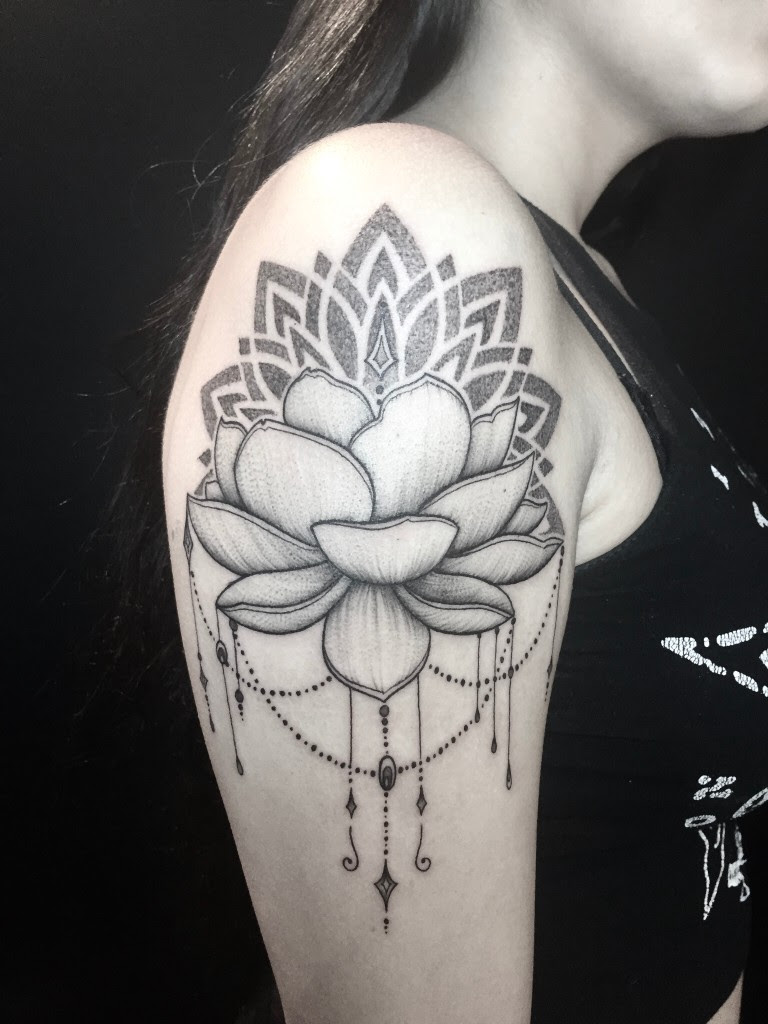 Mandala and Jewelled Lotus, for Mandy. 
✿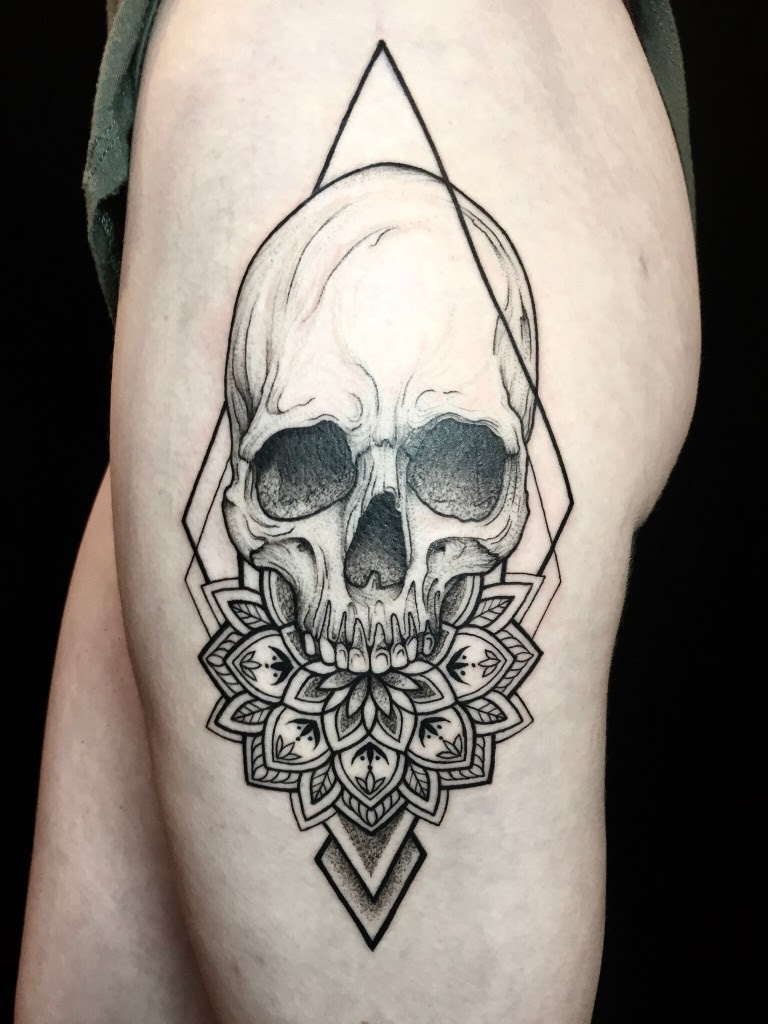 Skull and Mandala, for Mackenzie. 

♥
A Bird Wing, for Yasamin! 
♥
Snake and Roses, for Siera. 
✿
Ornamental Lotus, for Meagan. Thank you, lovely! 

☆
February 2018 Tattoos by Felix Addison
There are some clients who are simply such a joy to work with that finishing the tattoo comes with the same peculiar sadness that coming to the end of a good book does. Thank you so much Ryan for trusting my artistry so much that we were able to create this phoenix sleeve in a fluid creative process with ideas continually flowing back and forth, the many amazing conversations, and most of all, for so many sessions spent reading our mutual favorite author aloud to me. (Shout out to Sir Terry Pratchett from the other side of the veil!)
There are some clients who really bring home to me the personal significance of getting tattooed, and of the great honour it is to be entrusted with bringing their vision to life. This man was such a one, who came to me for his very first tattoo wanting two animals which paid tribute to his roots symbolized by empowerment and a fierce vital energy and will to life. His commitment to the process meant that we were able to finish this large piece in a mere few months and it has been a privilege to work with him. 
February 2018 Tattoos by Faye Cantara
Resilience, from the February newsletter - I'm so glad this design found you, Sophie!
Fiona had two back tattoos (not by me) with special stories that she wanted to integrate into a new design. With this piece, she renews her intentions as she moves forward with the next phase of life. It was a pleasure working with you, Fiona!
Regeneration, from the January newsletter for the tough as nails Stephanie! This is not an easy spot to get tattooed on, but definitely worth it. 
Mangoes and sampaguita flowers for Sam! Was this tattoo made for this arm, or was this arm made for this tattoo? Only the universe knows. ♥ ☆
February 2018 Tattoos by Katia Somerville
Overcoming Doubt: acknowledging fear as part of the process, instead of part of ourselves. First tattoo. 
Trust tattoo for this caring soul, seeing through the beauty inside. Daniel, thank you for trusting me with your chest tattoo design. It was an insightful day and wonderful getting to know you. 3.5 hours. 
"When we decide to get a tattoo, we are choosing to tell a story, share an experience with this form of art. The stronger the connectivity you have with your artist, their understanding of what you are wanting to express really comes to life through their art." Quote by my client, as I tattooed the bottom part in the photo. Lovely spending the day with you, Carol!
This tattoo represents making a commitment to the work necessary to perpetuate positive change and personal growth - both physical and mental. Thanks so much, Danielle. 
This tattoo is about Courage - tap into your confidence and step forward. I really love the layered look in this one and had a wonderful day getting to know this a snowboarder from Whistler.