| | |
| --- | --- |
| Monthly Newsletter  -  July 2018 |                        |
Make sure to click, "view entire message" at the bottom of this email and 'display images' at the top (gmail)
This July Katia invites you to share her festival experience through her Instagram story posts.
Last month we welcomed Jacquelina Divina from Victoria, Mary Jane from Sweden, and Megan Allard from Australia to create in our studio and they did some stunning pieces! August welcomes Dmitry Razin from Latvia and Jacquelina returning from Victoria. Please check the Rainfire Tattoo website for updates on artists' availability.
Megan Allard From Australia: June 20 - July 2, 2018 - 

This email address is being protected from spambots. You need JavaScript enabled to view it.

 ';document.getElementById('cloak8e003c67610e7fe96f152cd40cf1d014').innerHTML += ''+addy_text8e003c67610e7fe96f152cd40cf1d014+'<\/a>';
Her bookings are now closed for this trip - thank you for all the interest in her designs.
Dmitry Razin From Latvia: August 2 - 22, 2018 - Currently accepting custom projects. Dmitry is willing to work with many different styles and would love to get an email from you with your ideas! You can email him at: 

This email address is being protected from spambots. You need JavaScript enabled to view it.


and check out his portfolio here
Original Designs for July 2018 by Katia Somerville
(above): 
Flourish- Strength grows with a combination of boldness and flow.
 With Inspiration to add coloured jewels to black and white designs, Katia offers jewel colour of your choice. Would prefer to tattoo in one of the 3 shown placements but may also consider other placements. 
(above left) 
Sequential- Break apart patterns to create new systems within body, mind and spirit.
Open to placement on calf, could also be adapted for a rib piece. 
(above right) 
Entangled Allure- Upon closer inspection, with change of perception, judgement becomes adoration.
Would prefer to tattoo this design on an arm as shown, but also open to placement on thigh or calf. 
After numerous requests, Katia has decided to offer 2 trust tattoos this month. A trust tattoo is a process in which the recipient of the tattoo will only see the piece upon it's completion. This often includes wearing a blindfold throughout the session. This requires a high degree of trust between artist and client. Katia will have a conversation with you a few days prior to the session, and the design will be created following this discussion. 
  ---  TO APPLY FOR ONE OF THE ABOVE DESIGNS by Katia Somerville  ---

> Fill Out the Tattoo Form Here <
> Each design will only ever be tattooed once and the recipient will be chosen mostly at random.
I am a fast tattoo artist, however the time it takes will depend on the canvas size and skin. The designs in this month's newsletter should be able to be completed in two sessions, one session designs will be available in next months newsletter. Thanks for your interest and for applying. <3 Katia
*These are original art works by Katia Somerville. With respect, please do not duplicate the designs, bring them to another tattoo artist nor post them online. All tattoos are one-time custom pieces that Katia has drawn with intention.
Original Designs Available by Ashley Apok
The designs below are available to be tattooed by Ashley Apok. Please email Ashley atThis email address is being protected from spambots. You need JavaScript enabled to view it. to reserve one of these unique designs (please use the design name in the subject of your email).
  Temple Divine                             Meta Sri Seed                                Wise Raven
Original Designs Available by Faye Basravi
The designs below are available to be tattooed by Faye Basravi. Please email Faye atThis email address is being protected from spambots. You need JavaScript enabled to view it. to reserve one of these unique designs (please use the design name in the subject of your email).
Faye's books will be opening again for custom work on August 25th.
       Passionflower                             Camilla                                      Tireswing
Original Designs Available by Guest Artist Dmitry Razin, visiting August 1-22, 2018
Refract and Reflect
June 2018 Tattoos by Katia Somerville
Lindsay has been applying for designs for many months and it was finally her time to get a tattoo. We had a beautiful connection, and the day swam free with topics, inspiring each other and building a friendship in a day. This tattoo is about excess and balance; not going too far or falling too short with things (especially in the realm of food). Thank you Lindsay for your openness and generosity. I am so excited to get to know you more after your busy summer and continue adding artwork love to your arm and having more amazing conversations. 

♥️

Katia
A marathon tattoo session (5 hours), stay tuned—this is just round one; we will be fixing up all the details and adding more next month. The tattoo is about Communication. Thanks Graeme for your trust. ♥️Katia
Finite Fractal: 

The nature of science and science of nature, is simply complex and complexly simple. Infinitely ending and ending infinitely. 

♥️

Katia
Flow with Change: Shifts enhance beauty when remaining unattached and flexible. ♥️Katia
Own the flight of your challenges, and learn to love doing things alone.
We ask clients to come to their tattoo appointment alone for better relaxation, focus and get into their inner 'zone'. It makes the entire experience more personal, and they can have a deeper connection with the artist. 
If someone else is there, the client may feel the tendency to entertain them. The friend will probably be bored and that will make the client less able to relax. 
I've noticed that when there's a support person, many people have a harder time with the pain. Being alone allows personal strength to be heightened and when there's a friend there, people lean on that support and go through a harder time because of it.
If you feel uncomfortable going alone, I'd suggest to find an artist you can connect with so you both can have a better experience together. 
I remember my experience with every tattoo I have, and when there is a positive relationship with the artist, I like the tattoo more. When it's just you and the artist, the artist can also focus better and feel more comfortable. So my suggestion is to go alone, meditate and breathe through the process for a better tattoo and experience. 
  ♥️Katia
Friendship for life with this spectacular artist and real spirit, @maryjanetattoo, who has been working and living with me during her guest spot at our studio. It was a thrill to tattoo her head, face and neck before she went home to Sweden.

Her head tattoo is a reminder that taking time for self-care is not time wasted. It is of ultimate importance for the trajectory of our emotional lives and resulting actions to spend time on activities that nourish our soul and body. 
Whatever self care means to you, whether it's an indulgent pampering like getting a massage, relaxing in a hot tub, or doing an intense workout at the gym, it is something that should not be ignored. 
 ♥️Katia
Bud and Bloom: 
Promise of hope through endurance of discomfort.
Facing fears by stepping forward and blooming through the entangles of growth. Lovely spending time with you, Britt. I am impressed with how well you sat through those 5 hours. Hope to see you again. 
 ♥️Katia
Use a 'fierce determination' to reach your goals. Lately, I'm using 'fierce determination' to step out of my shell. It's exhilarating. This tattoo represents not giving up no matter how hard or impossible it may seem at times. You never know what tomorrow brings. Anything is possible.  ♥️Katia (and my client Star, who helped me write this).
June 2018 Tattoos by Ashley Apok
We added some more to Isaac's temple sleeve. Always good times with this stellar dude—thanks for the trust!
Wrapped up this geometric glitch half-sleeve. I'm really stoked with the result! Lots of great conversations with a fellow information addict. Thanks for the trust Bijan!
My clients continually amaze me with their commitment to sit in the fire to wear my art! Deep bow to Anna for sitting like  rock for these matching shin adornments. 
June 2018 Tattoos by Faye Basravi
I've been hesitant to use my real family name because many who share it with me live in a different world, and I wasn't confident enough to share this part of me with the wider family tree. We are a very small tribe, and many of them are in Pakistan, India, Iran, and Iraq, and have different ideas of tattoo culture. More recently I Googled my last name and saw that the younger generation is doing all kinds of cool stuff. I know 90% of the Basravis on the internet personally! 

I'm proud to be a part of the clan, even if I'm hella queer and might not be fully accepted by them. Diaspora has done a real number on our identities, and I fully accept them and honour our differences. I hope in time they might do the same! 

Thanks for reading!
♥️
Faye Basravi
Here is a tattoo I started on my client and now good friend, Earl! There's more to come on this one. Much love!
The beginning of a wildflower patch to cover up Nicky's shin! Nicky is my bffl, my ride or die, through sickness and in health, etc. 
Strawberry Sternum for Kim!
A cuboctahedron for Jasmine, who gifted me the most luxurious homemade tattoo balm!
Kylie got one of my newsletter designs and then requested a piece for her other calf—here we have the moon and stars...stay tuned for a matching sun piece on her wife's calf!
The cutest itty bitty log cabin dream home for my pup's walker and now pal, Zoë
!
Sternum piece for Jennifer!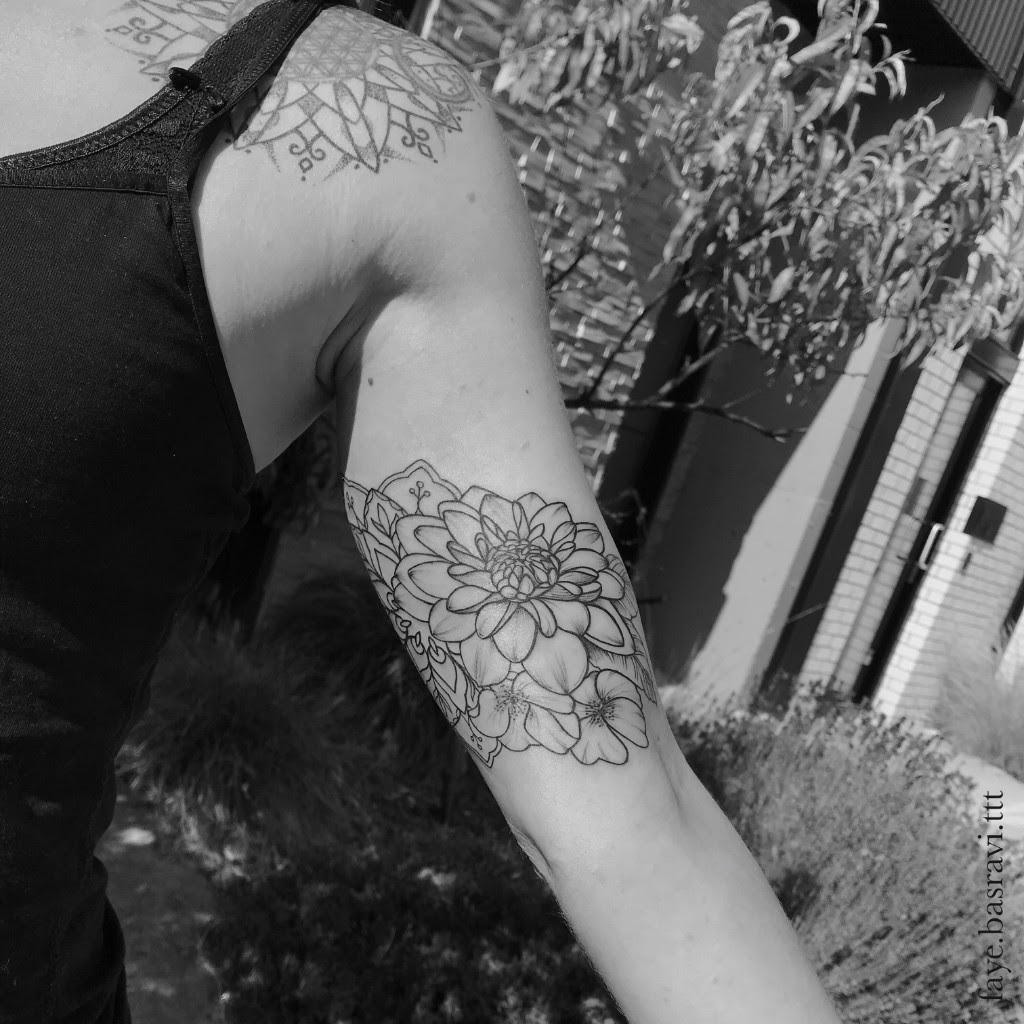 A gorgeous dahlia and wild roses on a gorgeous Stephanie! Also a 7-months-healed shoulder (chest? shest? choulder?) mandala by me, framing her existing shoulder tattoo. Thank you for the inspiring conversation and congratulations on the next phase of your life of lakeside-living!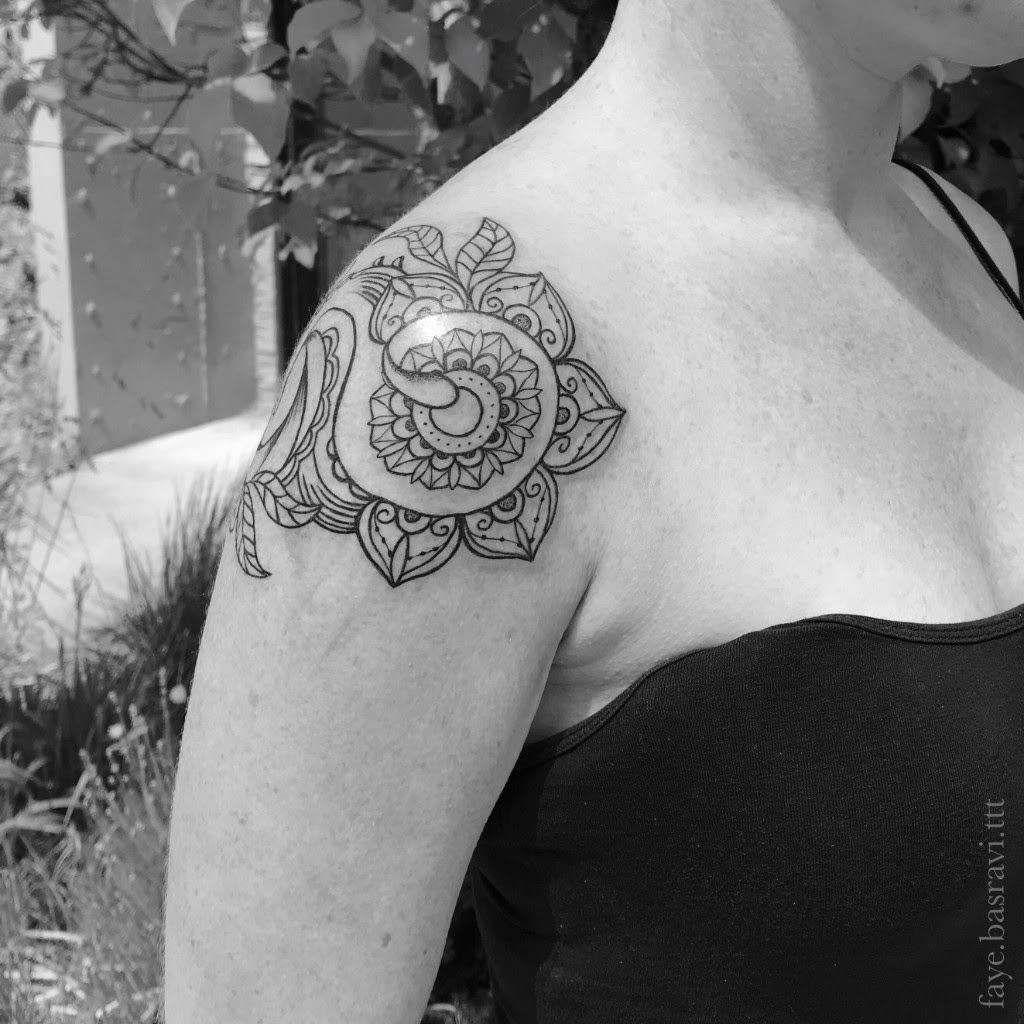 Thank you for your trust with this sweet wrap-around shoulder piece, Lindsey!
The proceeds from this adorable bike design will go to HUB Newcomers Program, which aids folks who have just arrived to Canada with the skills they need to get around on a bike of their own. Thank you, Anna!
June 2018 Tattoos by Amelie Soucy
Solid second session on this giant squid for Matt! This wraps around most of Matt's calf. One more session to go to finish up the other side and tighten up some of the shading. Thanks for sitting like a champion Matt!
Wrapped up this floral half sleeve on the loveliest Kat. I had so much fun with this project! This is mostly healed with some minor touch-ups in the black fill. Thank you so much for your trust!
A reminder of the sunshine for 
Zahné! Thank you for your trust!
Gerbera daisies for Jordann! Thank you for your trust!
Geometric Rhino for Kyle! This was so fun to create! I want to focus more on colour tattoos once I open up my books again for the fall. If you have any ideas for cool colour tattoos, bring 'em my way!
Progress on this sea creature leg sleeve for Elin.
Great horned owl for Milo. 
Fully healed, fun floral piece on the lovely Claudia! Thank you so much for sending me a photo and taking such great care of your tattoo!
Tattoos by Rainfire Guest Artists
June 2018 Tattoos by Mariana Groning
June 2018 Tattoos by Jacquelina Divina
Tattoo by Jacquelina Divina (@jacquelinadivinatattoos).
--
I enjoyed the charms of Commercial Drive in Vancouver, inspired by the incredible Katia at Rainfire Tattoo as our dreams merge in the purity of possibility. My cup is so full of creative juice and I am softening in the depths of my feminine power giggling into the ABUNDANCE of life. YES to the trust and direction of Sovereign Will and YES to the graceful surrender to the Will of the Divine. Thank you Michelle for sharing this journey, you are so strong and beautiful! I began this luscious Tigress that was drawn during the erupting volcano on Mama Bali last November. Big medicine amplifying as Pachamama continues to rebirth herself worldwide.
Tattoo by Jacquelina Divina (@jacquelinadivinatattoos). 
--
Really pleased with the beginning of this mountain magic! Two hummingbirds in one day. Special treat. Colour and more pattern magic to join Bella's body. Thank you, babe! You are awesome and I can't wait to try out your healing tinctures.
Tattoo by Jacquelina Divina (@jacquelinadivinatattoos). 
--


A sweet lil hummingbird for a sweet lil lady! Nice to meet you Amy, you are incredible - beaming your joy & love for all to receive. What a blessing! Thank you.
June 2018 Tattoos by Mary Jane Dotwork
Tattoo by Mary Jane Dotwork (@maryjanetattoo).
--
Standing strong in order to rise above. 
Tattoo by Mary Jane Dotwork (@maryjanetattoo).
--
It's been an incredible time with the crew at Rainfire Tattoo and with my dear sister Katia. All the love! See you soon!
Tattoo by Mary Jane Dotwork (@maryjanetattoo).
--


Great times at Rainfire Tattoo! 
June 2018 Tattoos by Megan Allard
Tattoo by Megan Allard (@meganallardart).
--
Raven Eclipse, the raven as a guardian and the eclipse as the growth of knowledge.