http://www.rainfiretattoo.com/inktober-designs
| | |
| --- | --- |
| Monthly Newsletter  -  November 2018 |                       View this email in your browser |
Make sure to click, "view entire message" at the bottom of this email and 'display images' at the top (gmail)
In October, the Rainfire staff went to an art installation by Patricia Piccinini. It was full of surreal characters made of silicone and human hair. As I walked into each room of the 2nd floor area in the Patricia hotel, I revisited the concept of how we view what is beautiful with regards to form. I highly recommend checking it out.
Faye's book have opened once again and she is currently accepting custom requests for January 2019.
Katia has spent the month of October doing the "Inktober" daily drawing challenge, she has been drawing and posting a new design by hand everyday. All 31 designs (which you may have seen on our website and her instagram) are all available to be tattooed but only 5 winners of our draw will get their chosen design. See below for more details.
Savannah Mah From Mission, BC November 12 - 16, 2018 - FULLY BOOKED.
Megan Allard From Australia January 3-18, 2019 -  

This email address is being protected from spambots. You need JavaScript enabled to view it.
Accepting booking for her available designs on her website (with a few exceptions for previous clients).
Katia has 5 spots available to tattoo new designs below for the winners of the draw.




Inktober Designs 2018

 
Visit our website or Katia's Instagram to view her individual Inktober designs.
November gives people an opportunity to name and describe the tattoo they'd like from the 31 designs that Katia drew for Inktober 2018. 5 clients will be chosen by random draw from those who submit an application (link below)

 

Winners will be contacted via email to pay deposit and book the appointment.
  ---  TO ENTER THE DRAW FOR ONE OF THE ABOVE DESIGNS  ---

> Fill Out the Tattoo Form Here <
> Each design will only ever be tattooed once and the recipients will be chosen at random. 
I am a fast tattoo artist, however the time it takes will depend on the canvas size and skin. Most of the designs in this month's newsletter should be able to be completed one session, about 4-5 hours maximum. Thanks for your interest and for applying. <3 Katia
*These are original art works by Katia Somerville. With respect, please do not duplicate the designs, bring them to another tattoo artist nor post them online. All tattoos are one-time custom pieces that Katia has drawn with intention.
October 2018 Tattoos by Katia Somerville
I find it so intriguing that this lady works every summer with a kayak tour company, and then for the rest of the year she keeps herself open to whatever arises, following intuition and seeing where life takes her. As someone who prefers a plan, I love learning and hearing stories about how some people are able to flow along without one. Are you someone who is more open to spontaneity or do you prefer to have a plan like me? ♥Katia
Travelling in a maze of time on a path of journeys. Life is full of choices, it's up to you what to do with them. ♥Katia
Representing the constant flux of flowing water, like a rotating icosahedron, being readily adaptable to the challenges of life. ♥Katia
An interesting story about how Tina saw the newsletter design for her right hand on the day of her father's passing, and then exactly a year later on the same day, her mother was in a car accident. Luckily her mother was unharmed but she also happened to find the design for her left arm on that day. Words from Tina: "Curious humility is to allow myself to connect with my lack of confidence and ability to let go of the past to accept all the change that is crucial and inevitable." ♥Katia
Aimee's tattoo represents focusing on positive thoughts. Negativity feeds difficulties. Words from the client: "Send out good energy to the world with compassion and don't let negativity defeat you." Thanks Aimee, I enjoyed tattooing you immensely. ♥Katia
Adding on to a trust tattoo, this is a sleeve in the works on Jessica, who reminds me of a peaceful warrior. Strength in silence. ♥Katia
This is a leg sleeve I've been working on over the years. Projects like these sometimes take many years when the client travels from far away. The constant lesson is patience. 
Speaking of patience, one thing most people who follow me know is that I am fascinated by learning how to communicate. Putting spaces between your words helps the listener to hear what you are saying and trains your mind to slow down, using less repetition and filler words such as 'like/um'. One thing to remember is a quote by Neil Straus, 'everyone's favorite subject is themselves'. To become a better communicator, try these 3 tips, laid out in David Carnegie's book 'How to Win Friends and Influence People': 1.Speak slower and master the skill of listening 2. Take a sincere interest in others and 3. Dont talk so much about yourself. ♥Katia
October 2018 Tattoos by Felix Addison
This piece pays homage to the client's matrilineal ancestors, both adoptive and genetic, and to her acceptance by the Bear Clan, among whom she was raised. It was a beautiful journey working with this wise and wonderful soul as she made her regular visits, traveling from southern Vancouver Island to my island studio, even as her relationships with the ancestors it symbolizes evolved and deepened throughout the course of time it took to complete.
A beluga whale, playful and free. The client is a biologist, working to save our coastal ecosystems and sometimes she gets to go kayaking up north with the belugas. She likes to sing to them, and sometimes when she does, they come to listen and play around her little boat.
The depth of symbolism of this tattoo is such that I'm not going to try to do it justice in words at this time. Sigil and text not by me.
October 2018 Tattoos by Ashley Apok
As the season transitions into Autumn I find myself in gratitude for the contrasting experience offered by the seasons. Not in resistance to what is, moving with the introspective energy of Fall, and working to apply the insights of the previous months to transmute them into creative gifts for the world.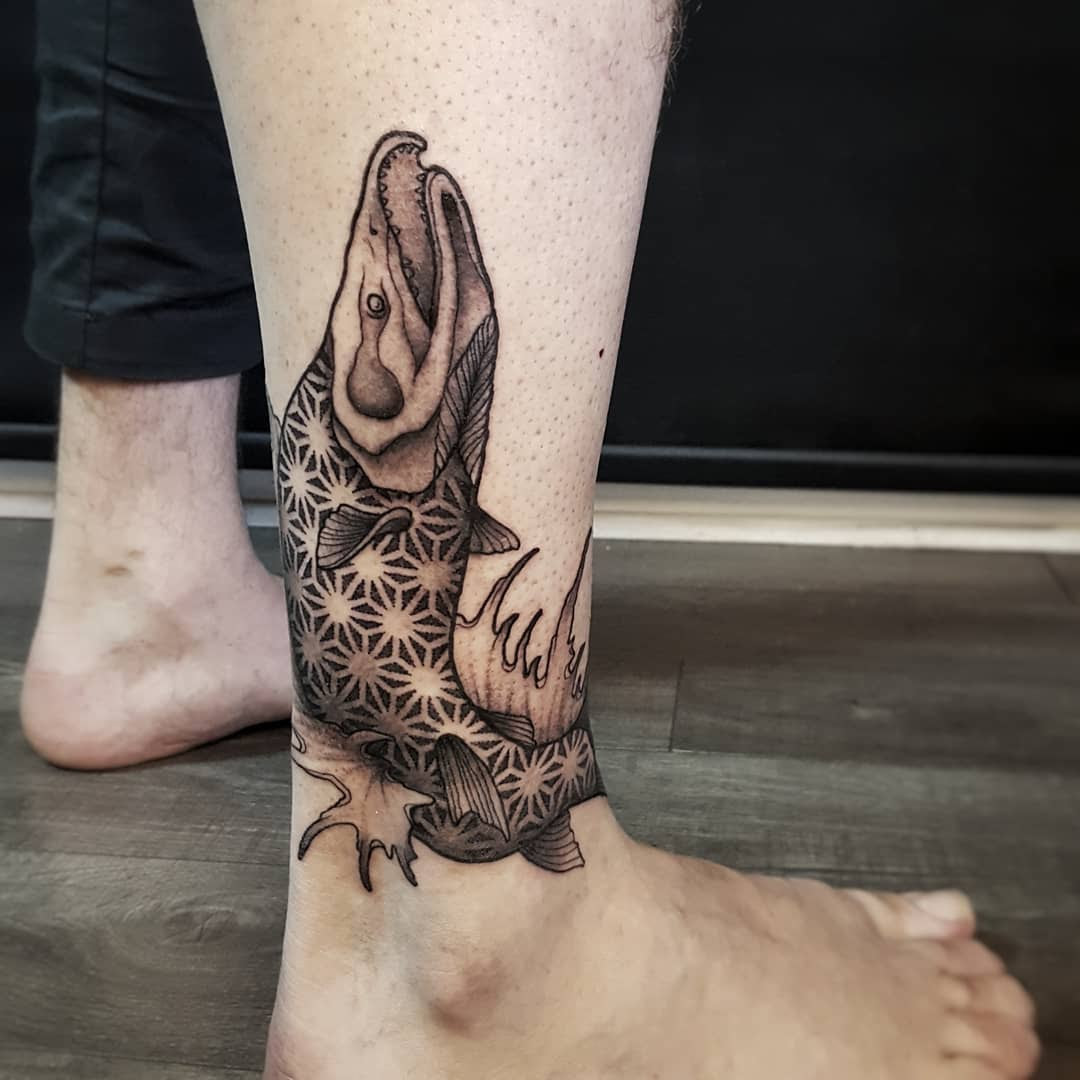 I have always been emotionally impacted by the degradation of the environment, and recently had the idea of doing a charity tattoo as a way of impacting the world, and create positive change with my art. The proceeds of this tattoo will be donated to the Raincoast Research Society to support the work of Alexandra Morton. Alexandra has recently been collaborating with the Sea Shepard Conservation Society to get Salmon feed lots off the west coast, and out the wild Salmon migration routes. You can learn more at www.alexandramorton.ca -  Thanks Dylan, for wearing my art and supporting this cause.
Some pretty flowers for Stephanie!
The truth is that you already are what you are seeking.
-Adyashanti
October 2018 Tattoos by Faye Basravi
Y'all, Jermain and I were expats growing up in Kuwait at the same time!!! Kuwait is smaller than a pinhead on the map and it was awesome reminiscing about the food and culture that we grew up with. And of course, the friends we happened to have in common. Loved connecting with you, brother! Best of luck with your adventures in Australia 
This oak tree was for an awesome young woman who made me so hopeful for the future - I felt so honoured to do Sophia's first tattoo.
Hehe this chubby lil dude! 
Such a pleasure tattooing you again, Nadine! You're awesome!
A lil red slider next to Keeley's healed flicker from August! So happy to put two of my creature friends next to each other. Thank you for your trust, Keeley!
For now I am immensely grateful I get to call this paradise my home - thank you, Verneet, for trusting me with this piece and for the awesome conversation!
Mitch has a head full of concepts that are going to be a lot of fun to translate into a sleeve! Can't wait to see where this project goes.
We added a larger lotus and hamsa to Monique's existing Om and smaller lotus tattoo (not by me), turning this back piece into more of a ~*BACK PIECE*~. Such a pleasure working with you, Monique! Safe journeys.
Added some ornaments and moon phases to Jen's fingers - and I got a healed shot of the sternum piece we did in the spring!
Heeeeeeeere's Rex!!! What a fancy guy...thanks for giving him a loving home, Matt!
October 2018 Tattoos by Amelie Soucy
Always so stoked to have the chance to do Harry Potter tattoos! This was real heckin fun to create and real heckin hard to photograph hahah! Thank you so much, Suraj!
Intertwined. 
For my dear friend, Rob. Thanks buddy!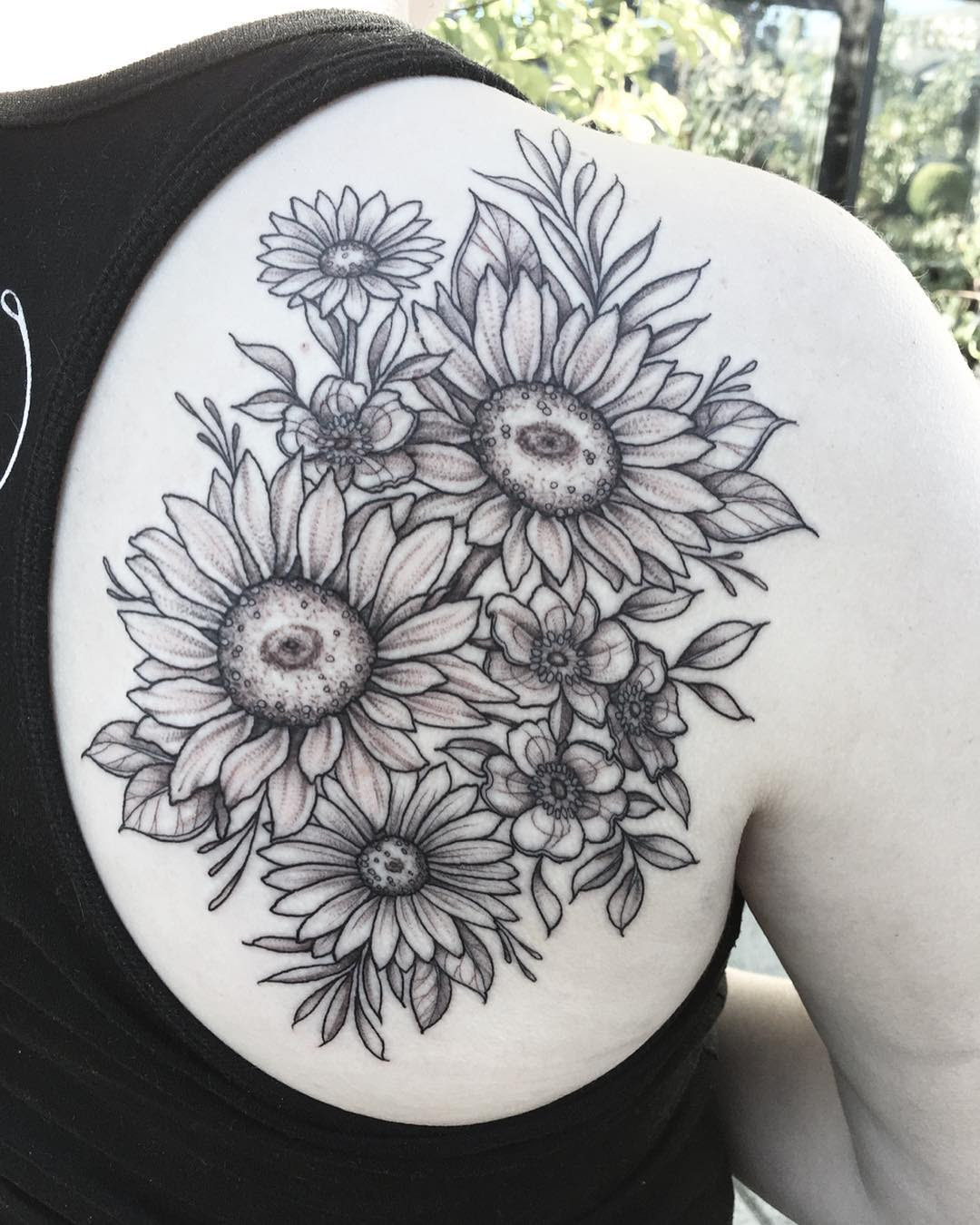 Fleeewurs for the lovely Katie. Thanks a bunch!
Growth from within.
Thank you for giving me the honour of doing your first tattoo T!
Flora & Fauna. 
Some of my favourite things. 
Thank you so much, Aria!
Flash crystal and fungi! Huge thank you to Chay for claiming this piece and filling the last minute cancellation! This was so much fun to create!